This tiny cabin is the perfect fall retreat, nestled among the redwoods outside San Francisco.
John "JT" Tredgold knows a thing or two about love at first sight.
As vice president of bakery operations at Semifreddi's in Oakland, CA, he needed a way to decompress after long hours of perfecting pastries and chocolate croissants at the handcrafted bread shop.
"It's a funky cabin, but I looked at the design and proportions, and I fell in love with it," JT said. "You walk out to the deck, and it overlooks this gorgeous creek. It just goes on and on. It's overlooked by redwoods. It just gets better and better."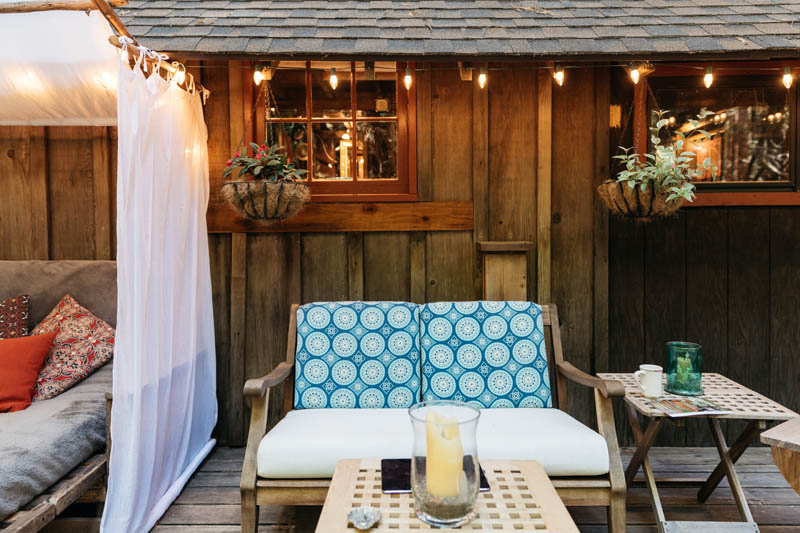 The tiny-but-tough cabin that made the baker's heart rise packs quite a punch into just 324 square feet. Built in 1959, it boasts a classic woodsy interior with thick, exposed wooden boards, plus a number of outdoor features — a treehouse! Zip lines! More on those in a bit.
Inside the main house, a clawfoot tub painted fire-engine red adds a burst of color in the bathroom. The copper-colored faucet and handles give off a warm vintage feel.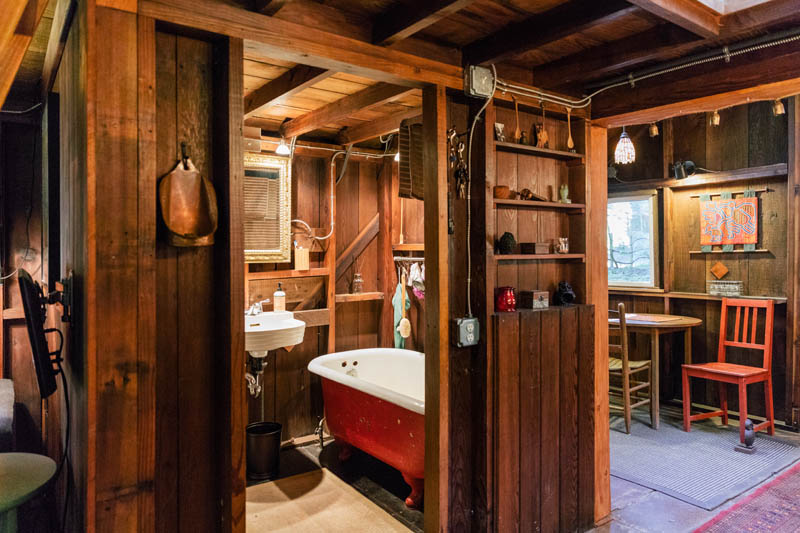 Upstairs, a lofted bedroom with an expansive skylight offers a view of the redwoods that surround the property. It's JT's favorite.
"Waking up in the morning and seeing the light break through the trees is incredible," he said. "The same goes for nighttime. When it gets dusky, the sky turns deep blue, and I can hear the creek."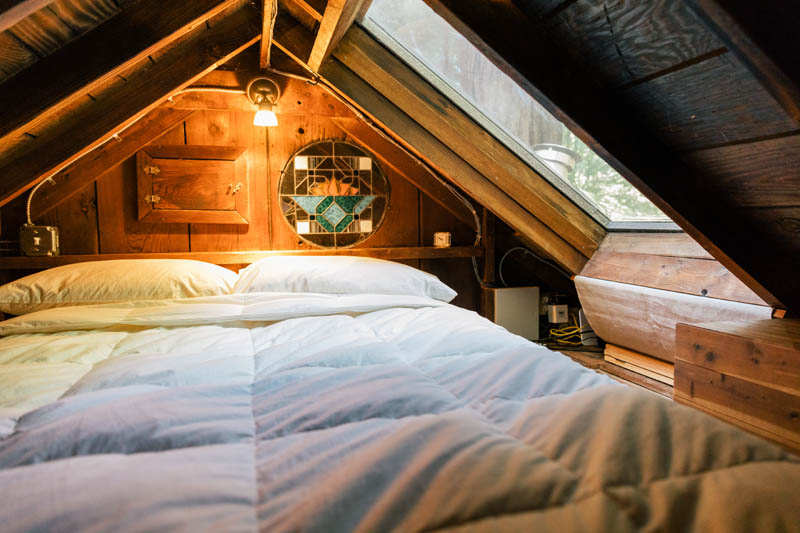 "I don't rush in the morning," he continued, "and I don't rush in the night. I just make sure I'm breathing it all in."
And there's certainly space to do that. On the deck, JT built a canopy for snoozing under the stars. A white curtain provides a wispy cover, while 200 hand-strung lights illuminate the space at night.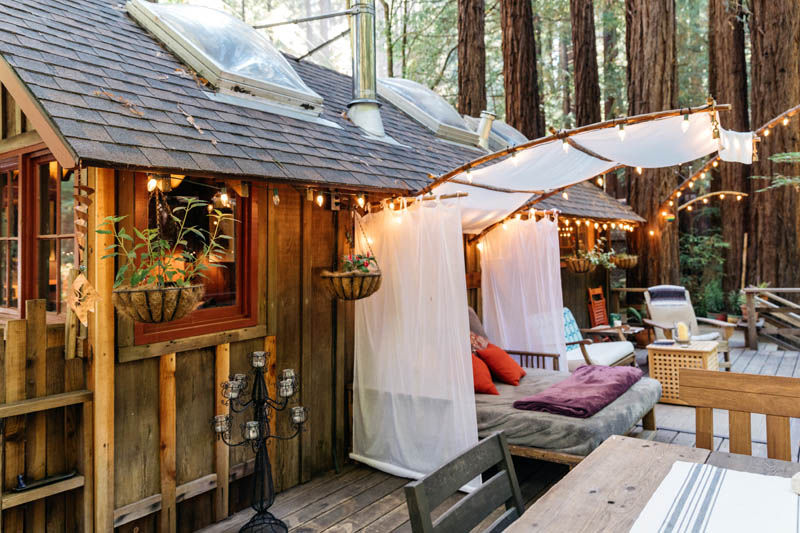 For more adventurous days, there's a set of zip lines perfect for darting across the property. And the handmade treehouse that JT built, lofted among the trees, offers a spot for him to sleep in the summer or just to sneak away and read. The creek nearby provides nature's soundtrack.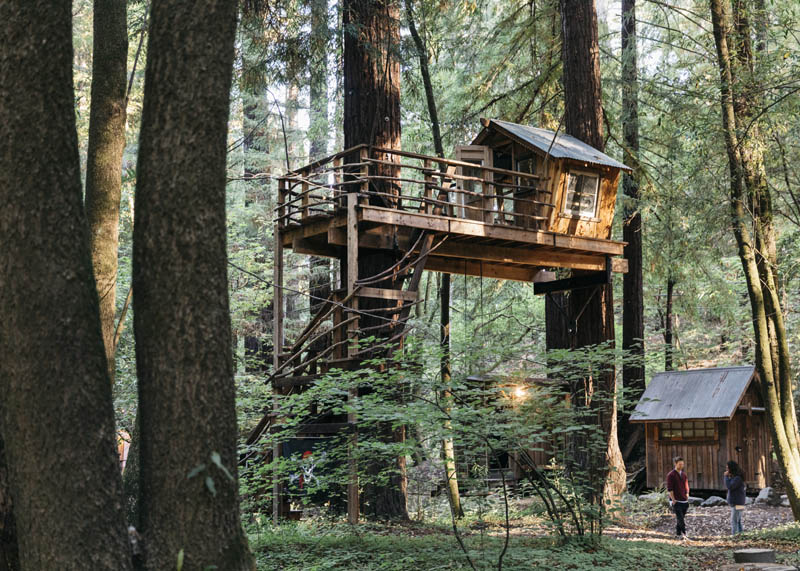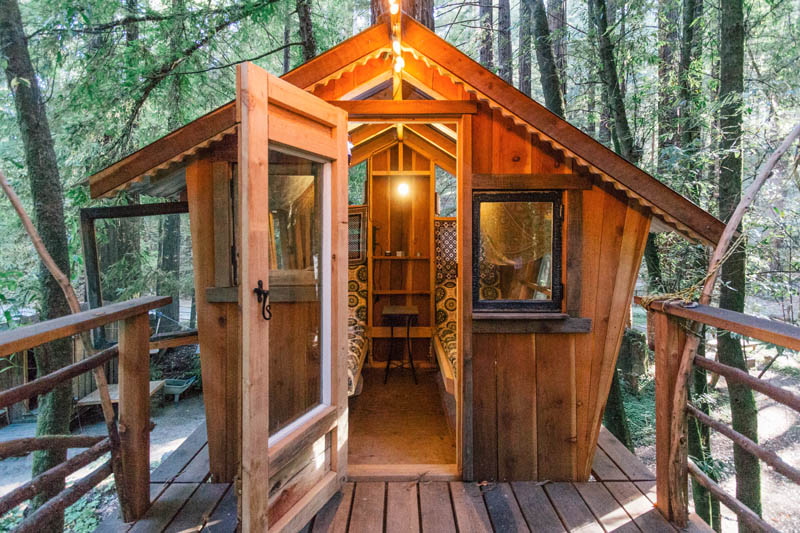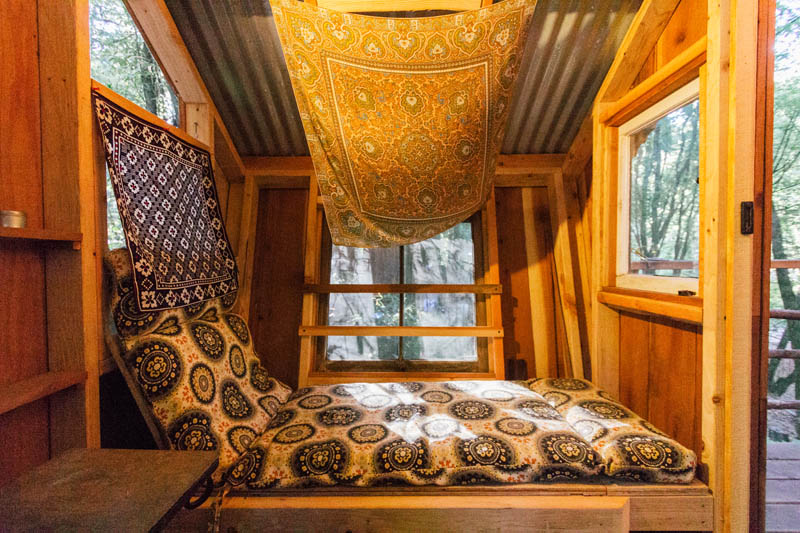 A roadside fence is also handcrafted — curvy and sinuous to mirror the wavy surface of the creek. Storage sheds are made of salvaged wood, while some of the walls were formed using repurposed shipping pallets from the bakery.
Parting with the property is bittersweet for JT, but important, he said. Wanderlust is calling, and so he must go.
"I've been here for five years, and I've never really been anywhere for more than five years," JT said. "I just decided it's time to go."
"A friend of mine once said the biggest danger to an adventurous spirit is stability and security, and a free spirit needs to look for a new horizon every morning," he continued. "And that's always stuck with me."